Four Times Tested, Four Times a Champion!
I don't tend to go public with thoughts about specific products, but this is an exception.  Not afraid to say it: I just LOVE the Harness Lead, and have had 4 dogs to test it with, and every test was aced!
I figured a good way to share my experiences is to tell the stories of the dogs who benefited.
Zoey
My beloved old girl Zoey was almost 11 years old when we found her a Harness Lead. She was at least 70 pounds of almost solid chest muscle, so when Zoey decided she was going to go somewhere, she pretty much did as she pleased and you might easily get dragged along with her. While gentle as can be, she was also very headstrong, and powerful.
Over the years with Zoey, I had tried all kinds of collars, leads and restraints to make her behave – all with varying, but limited success rates. I hated to choke, shock or inflict any kind of pain on her to make her obey. It seemed cruel and unnecessary, but I didn't know what else to do. Then we got her a Harness Lead.
Putting it on her was easy – she stood still while I quickly wrapped her with the Harness Lead. I immediately noticed the difference in the way it reacted to her movements, and she to it…she didn't pull on it, as she would to a choke collar or other neck-based restraint. I liked the softness of the materials, and the gentle way it treated her. She heeled as soon as I took out the slack, and seemed happy to do so.
After our first few walks, the Harness Lead itself, became the call to going outside: "You wanna go out on your new lead?" I asked.  She knew what that meant, or what it meant when I simply picked it off the wall hook, and would stand still, eagerly wagging her tail as I wrapped her quickly. And as I finished, she would be at attention, happy and waiting to walk, but not jumping around or barking or being hyper like old leads would suggest to her. There was a new discipline that the Harness Lead itself produced when it was on, and I LOVED it.
I have since thought that it is the nature of the lead that makes the dog feel comforted – the slight pressure on the chest, wraps them like a security blanket or something. At least that is the way Zoey behaved on our walks using it. To say it was a game-changer, perhaps is even underselling it somewhat – it was just awesome, especially in comparison to others I had used.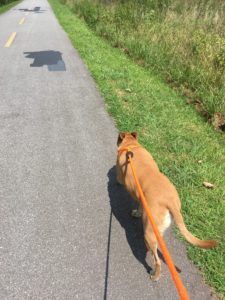 My one regret with Zoey's Harness Lead, is that she only had it in the last few months of her life. She was older, but still quite a handful to take for a walk, until we used the HarnessLead. As soon as it was on her, she would heel calmly, and be ready to go wherever our walks would take us.  She did so until she couldn't go on walks any longer.
I appreciated the fact that I wasn't choking or pinching her anymore to make her behave – the lead seemed to encourage her to do it all on her own. She was always happy to go on a walk, but she seemed even happier once it meant that the Harness Lead was the choice of restraint.
I miss Zoey every day now, and though I buried her with many of her favorite things, I kept out the HarnessLead she loved so much so my next dog can enjoy it as well. I have it in a handy place now, ready to be brought back into action when the time is right. It may still be hard to think about having another dog just yet, but it is easy to think about what kind of lead my next dog will be using from day one.
Bumba and Ganja
These beautiful Husky-mutt-mixes were mother and son, visiting from Colorado for a few weeks. At home, they claimed more than 400 acres of territory to roam without a lead, but the rules and expectations were much different here in suburban Atlanta. It was going to be a challenge, particularly for Ganja, the male pup, who was just over a year old, and had never even been on a lead. "He's essentially like a really sweet wild animal," his owner confided in me.
We need to obey the  Georgia leash laws and wanted to take the dogs on hikes and into city settings, so a couple Harness Leads came in the mail, just as quick as they could get here.  The results, were very impressive, indeed.
Bumba, the mother of the pair, was a quick learner and was immediately able to go on long walks without pulling, straining or yanking on her lead. Though a lead (of any type) was clearly something she was not fond of in any sense, the Harness Lead was not a problem for her, and she behaved like a champ every time we used it for her. Yet the real eye opener, was how her boy Ganja reacted.
On his very first walk, it took Ganja only minutes to understand how the Harness Lead worked, and he was heeling, and behaving in a manner unexpected but totally appreciated by us humans walking him. Instead of tearing around full of puppy zip and being hard to manage, he was attentive, happy and perfectly content to do as we wanted.
Within a couple days, it was noticed by us both, that simply putting the lead on Ganja had this calming effect: though still a puppy in every sense of the word, he behaved much better instantly when he was on his lead.
While the dogs still much preferred to be loose and behaving like "wild animals," the Harness Lead enabled us to bring them into new settings and into some better hiking opportunities. Best of all, was the rambunctious puppy calmed as soon as he was in the Harness Lead – which made every walk more fun for all.
When the visit was over, the dogs carried with them their new Harness Leads, so that they could encounter more opportunities wherever they happened to travel next. Leash laws were no match for these lovely mountain mutts!
Bella
My son and his girlfriend have a fiesty little pit bull named Isabella, or Bella for short. A lovable runt who has always been a city dog, she struggled to get a lead that did not irritate her sensitive skin. She also seemed oblivious to some collars, and would choke herself silly on every walk. While some body-harnesses worked better to control her and prevent the constant pulling, the velcro straps would chafe, and the poor thing had body rashes and skin irritations all the time.
That is, until she got her Harness Lead from Grandpa.
When I was caring for her recently, I decided to try the reliable Harness Lead, to see if she behaved and reacted better to it than to a regular choke collar or even the preferred body harness we used on our daily walks. And as with all the dogs I had seen before her, Bella behaved like a champ on the Harness Lead.
Her tendency to pull and strain on the lead was not there – unlike when she was using a more traditional lead. Better still, the soft material and the way it is made, did not irritate her very sensitive skin: no more chafing from a walk. This was wonderful news for her continued recovery at my house, and when she moved home to Brooklyn soon after that, she brought her new lead with her to show-off to all the dogs in the city.
Go Get Your Own
In no way was this post a paid endorsement, or anything similar. I am sharing my personal experiences with a tremendous product – an innovative lead that I would not hesitate to recommend to any dog owner. They are gentle, strong, sensitive and effective leads which make some dogs respond in a calming way almost immediately when they get into them. I have seen it, more than once on very different dogs.
To get your own, simply visit the website: https://www.harnesslead.com/. There's a shop option there to ship right to your door: https://www.harnesslead.com/store/c1/Featured_Products.html and if you have any questions, you can email them at harnesslead@aol.com. Your pup will be very pleased with you!
Want some more dog harness reviews? Check out this site: https://www.rescuedogs.co.uk/harnesses/