OK, the Holidays have officially passed. I dragged the old tree down into the woods a few weeks ago, and put all the decorations back into storage. Now that the parties are all said and done and us merry revelers are forced back into our sterile routines, it is finally safe for me to bestow upon you the best egg nog recipe, ever.
I would not do it during the holidays to ensure my own gatherings were memorable – indeed, people have come to understand my egg nog is not like others, and is worth enduring my prattling on. Every time I make it, people ask for the recipe, or an IV – usually both. They pledge to listen to me, if only long enough to latch onto the 'nog tit. I get it.
I decided after so many requests again this year, to finally give the recipe away. If you like egg nog, this recipe is going to make you cry with unbridled joy, or pray, or orgasm, or do whatever you do when mouth awesomeness overtakes you. It is boozeless, but go ahead and spike yours as you see fit. Captain Morgan's Spiced Rum or brandy are both good I hear.
I give a solid nod to my Mom – it was her recipe I read, and stole/appropriated to create this one. My Mom's egg nog in the 70s was crazy perfect, and a granite memory of mine. She would fill milk jugs, and we kept them in the snowbanks outside the back door. I dialed back a little of the sugar and some of the control and precise measures hers had, but otherwise, this is all Mom's recipe. Definitely came from me trying to recreate that unmatched deliciousness.
———————————————————————–
Ingredients for The Best Homemade Egg Nog Ever:
One dozen eggs (yep – all of 'em)
One half-gallon to a gallon of  milk (skim, 2%,  or whatever)
I pint heavy whipping cream
sugar- white refined or powdered – 1 half cup, and one quarter cup, separated.
a good shot of vanilla extract, 2-3 times (eyeball it, but don't go crazy)
———————————————-
Step One:
separate egg whites and yolks. Put yolks aside.
Sounds so easy – almost care-free and fun. Separating eggs is pretty hateful though, at least to me – this is by far the hardest part of making this, but absolutely required.
Suck it up.
Step Two:
add quarter cup sugar and small shot of vanilla (optional) to egg whites –  beat until they are stiff peaks – a meringue is what we want here. Set meringue aside.
(Note: I have used Cream of Tartar in this before to help stiffen the meringue, but did not see a change really when I didn't have it, so I don't normally use it. Go ahead if you have some – because how many times do you ever get to use it? Cream of Tartar soup?)
Step Three:
mix together the heavy whipping cream, a good solid shot of vanilla extract, and a half cup of sugar. When it's creamy and smooth, stop…especially before it becomes too thick and turns buttery. You are looking for whipped cream that is very soft and silky.
Step Four:
In a separate mixing bowl, hand-whisk egg yolks with a medium-to-smaller shot of vanilla extract. Slowly add milk (the full gallon or half does not need to be used – you can use less, and the nog is richer…but about half should be fine and the rest is to taste). Whisk milk with yolks for consistency…looking for simply a nice blending of all ingredients. Light froth is OK, but settle down.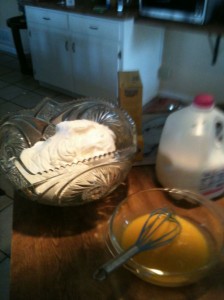 Step Five:
Combine the meringue and the heavy cream in the serving punch bowl, then fold-in the yolk and milk mixture, stirring constantly. Pull the meringue and cream into the  yolk-milk mixture, blending all. Even after generously mixing, it will settle and produce a very light/whipped froth on top, and the nog will be below.
Garnish the frothy top of this drink with ground nutmeg and cinnamon…I tend to be a little generous. Better if you can shave nutmeg onto it, but hey.
———————————————
It seems like this would be super rich with all those ingredients, but it is really light and airy. The meringue is the key – it really makes this stuff have an amazing texture.
I have made this with hand mixers, and now a couple times with a KitchenAid big mixer (my Precious is lovingly in those images above) – and there is no comparison to how long it takes – the KitchenAid is so key in the process, I am even willing to make it more often now.
So there you go – I imagine less people may be coming by this Holiday season if they see the recipe posted here…thank God no one reads this. But if they all stay at home, inducing their own egg nog comas – I totally understand. 🙂